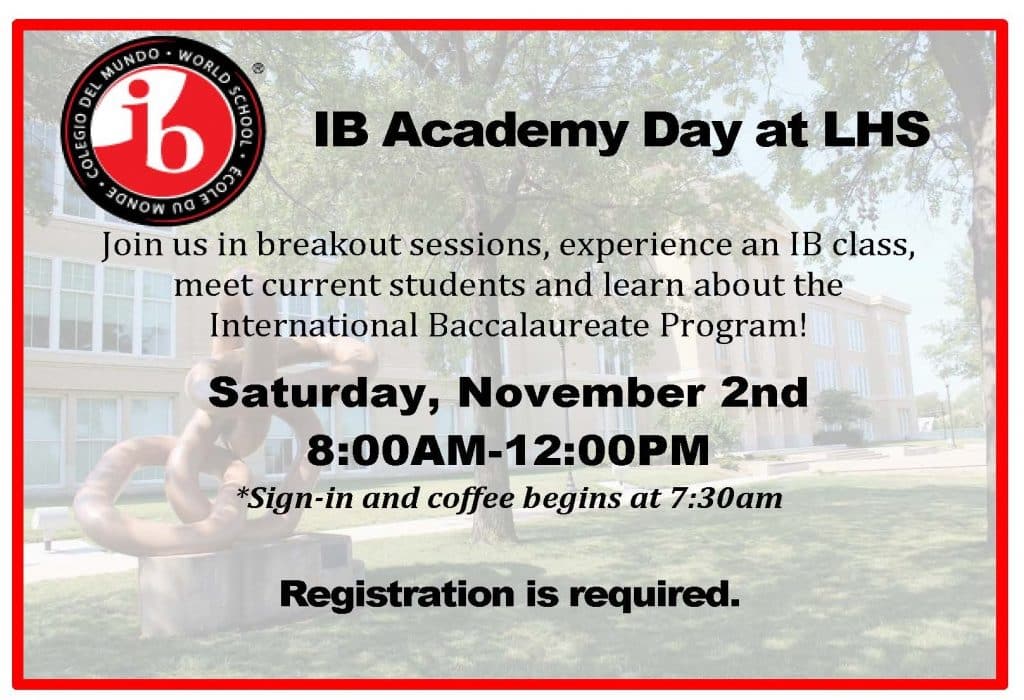 Information on the day consists of the following:
Lincoln High School will host its annual IB Academy Day, a morning of information and activities, to help parents and students understand what the International Baccalaureate program is and why it is a premier experience for high school students around the world.  Sixth, seventh, and eighth grade students and parents are invited and encouraged to attend this event so you can learn more about this incredible program and consider whether IB might be a good fit for you.

This year's Academy Day will have breakout sessions related to each of the six core subject areas represented in the IB Diploma Program. Students are asked to pick their top four choices and will receive three of their four choices on IB Academy Day. (Please note, because of the planning involved in scheduling, students who register after Oct 29th will receive a generic schedule which may not reflect their requests.)

These sessions will be conducted by IB subject area teachers along with current and former IB students. Each breakout session is structured to not only give students a better understanding about some of the topics and ideas covered in our classes, but will also provide a means for middle school students to interact with our IB teachers and students in a hands on experiential manner.

The parent portion of the program will consist of an informational session conducted by J.P. Caruso, our IB Diploma Coordinator. Several breakout sessions will follow the presentation including: a panel discussion with current IB students, an academic 4-yr plan overview with our IB Counselor, the IB and colleges and universities by UNL's Asst Dir of Admissions Ellen Sundermeier, and Q & A Sessions with IB Teachers.

Check-in will begin at 7:30 AM with Coffee, fruit, and bagels. The formal start of the day will begin promptly at 8:00 AM. We expect the day to end around 11:45 AM.

Because of the size and scope of the day's events, students and/or parents are asked to arrive before 8AM. Parents are not required to attend with their student but are encouraged to do so. If you have any additional questions, please contact J.P. Caruso at jpcaruso@lps.org or 402-436-1301.